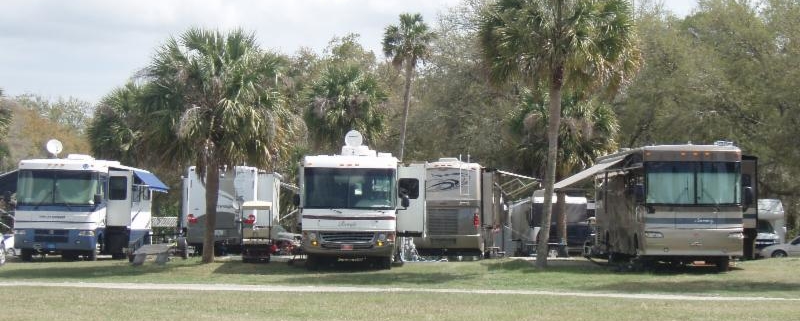 We host any number of groups and rallies here at Wekiva Falls because every RV traveler knows that rallies are a huge part of the RVing experience. RV rallies are a great and enjoyable way to meet up with friends from all over the country. Veteran travelers often meet up with old friends from previous rallies. We are proud to host both small and large national and local chapter rallies.
With over 800 RV spots with full hookups and various size pavilions for your events, we are sure to accommodate your group needs. Choosing to have your RV Rally Wekiva Falls is an excellent choice for your organization or club gathering.
Facilities
Rallies and camping groups need look no further than Wekiva Falls RV Resort & Campgrounds. Located in the heart of Central Florida, close to all the major Orlando attractions. We invite your group to rally with us. Wekiva Falls is a highly-rated, all age campground and RV Park in Sorrento, FL and has all the amenities your camping group is looking for in your next RV event and rally.
Premier Central Florida Rally Park
So whether your RV rally group or Camping club organization is heading out to a popular event or destination such as NASCAR, Orlando Mardi Gras, a balloon festival, or a trip to the theme parks, Wekiva Falls is here to accommodate lodging, activities, and fun! We invite your RV rally group to stay with our family of RV resorts for a great balance of resort style accommodations, amenities, and on-site activities within proximity to your events and attractions. Our resort will bring out the very best for your rally so that you can sit back and enjoy the comfort and convenience that our resort provides.
Please be sure to give our office a call so we can set up a group reservation and get all of your friends and family camping near each other and having a wonderful time! 352.269.3405