What awaits you at Wekiva Falls? Amenities you would find at the coziest resorts, enough outdoor activities to last a lifetime, and views to rival a postcard photograph! It's no wonder that thousands of people flock to our luxury RV resort and campgrounds each year.
At Wekiva Falls, there are many activities and first-rate amenities to keep your group engaged, involved, and excited about your stay here. From our beautiful natural areas to our incredible Lagoon, Wekiva Falls highlights its own selection of great amenities and activities.
Click below to explore our resort amenities!
Magnolia Clubhouse
Magnolia Club
The Magnolia Club is a 9,000 square foot clubhouse, located in the center of the park on the south side of the property. We host many of our events here, and both guests and residents love spending time here. Our outdoor pool is heated in the winter months and kept at the perfect temperature. There's a large kitchen with a seating area for up to 600 people. If you take a look at our calendar, you'll find a host of themed events and activities. If you're looking for something quieter, we keep a library stocked with plenty of favorites.
Outdoor Pool (Heated in winter months)
Large Kitchen & Seating up to 600
Themed Events and Planned Activities
Pelican Peak
Pelican Peak
Right behind The Magnolia Club is a building we call Pelican Peak. Inside you'll find a small gym, and a small meeting room, a secondary laundry, a shower, and additional restroom facilities. Right outside Pelican Peak is a beautiful dog park where your four-legged family members are welcome to run and play off-leash!
Small Gym
Dog Park & Dog Wash Station
Small Meeting Room
Secondary Laundry & Shower/Restroom Facilities
Marina & Tiki Bar
Meandering Marina & Tiki Bar
Located on the far east side of our property along North Falls Overlook you will find our marina, Meandering Marina & Tiki Bar. Once seated at this beautiful bar, you can order a cold beer or a cocktail, socialize, watch your favorite sports game, or join us for a night of karaoke! The Marina is also the place to be to rent canoes and kayaks if you were planning to hit the water. Check our calendar for hours and activities.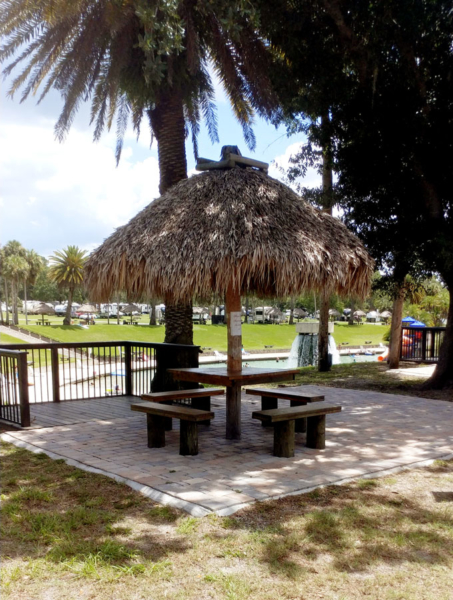 The Lagoon & The Falls
"The Falls"
At the center of everything here at Wekiva Falls is our large natural sulfur spring-fed swimming oval, known by most as "The Falls" or "The Lagoon." Come relax under a palm tree or in a lounge chair, or hang out at one of our awesome Tiki tables near the water and dance while our DJ spins the hits.
Shopping
Mastodon Market
There's no need to leave Wekiva Falls if you find yourself low on basic supplies. Our on-site Mastodon Market has what you need. We stock chips, candy, soda, hot dogs, beer, limited grocery supplies, band-aids, batteries, and many other RV and camping supplies. If you're staying long term, you can arrange for your mail to be dropped off here too. Mastodon Market also has a laundry room, a shower, and restroom facilities for your convenience. Right outside we feature a huge children's playground.
Market
Long-term Mail
Children's Playground