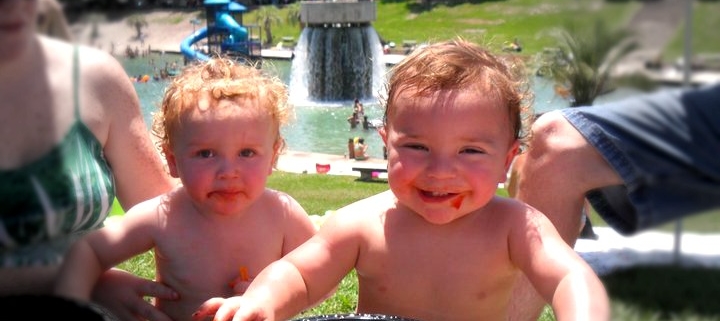 Do you love the water? We do too! That's why Wekiva Falls Resort delivers an unmatched pool and river experience. The Lagoon is so impressive that it acts as a water attraction all on its own. Guests can purchase a day pass to visit. Wekiva Falls has embraced our water fans and created an experience that your family is sure to love.
Our natural sulfur spring is warm and features two water slides, as well as a DJ on the weekends! Stop by our marina for canoe and kayak rentals. We offer 2 & 3 person canoes and single-person kayaks. Nature and adventure find a unique combination here at The Falls!
Pet Policy

Day Pass Guests are not allowed to bring their pets, with the exception of working service animals.

Pets are not allowed in the spring/Lagoon area, outside of designated areas. They are, however, allowed in the water at the canoe basin.
Spend The Day With Us
Your whole family can experience a variety of water fun. Enjoy the pool, kiddie areas, twin water slides, or a lazy day out on the river. Many campers come for the weekend for camping, fishing, arts and crafts, s'mores and so much more! Families never forget watching their little ones spend the day playing in the waters and splashing beneath our 360-degree waterfall.
And no summer day would be complete without a dip in our 72-degree natural spring. The minerals in the water feel incredible!
Come hangout beneath our 360-degree concrete waterfall.
Cruise down one of our twin waterslides.
Sunbathe in the beautiful Florida sunshine.
Park is open daily from 8am to 5pm
All day pass guests park their vehicles in Mastodon Meadows and walk to the spring. There is limited handicap parking. We have a trolley available to bring guests to the lagoon! You are welcome to bring your own tables, chairs, beverages (no liquor), and food! Rafts are welcome in the spring but may not exceed a two person float. Pop-up pools are not permitted on site. Canopy tents are welcome at the spring but not in the water. Guests are welcome to bring their own grills. We also have Tiki tables and canal tables available for your use at no additional charge!
Swim Wear Policy
In keeping with Wekiva Falls RV Resort's family-friendly atmosphere, and for health and safety reasons, Wekiva Falls RV Resort strictly enforces a dress code. Proper swimwear is required.
Male and female bathing suits must offer 75% coverage of your bottom. In the event you do wear bottoms that do not offer 75% coverage, you will be asked to change or cover up. Swim trunks must be worn properly at the waist. If bottoms show too much underwear, or are cut too low, you will be asked to pull them up or cover up.
All children must wear appropriate swim wear/play wear while at Wekiva Falls RV Resort.
Inclement Weather
In case of inclement weather, Wekiva Falls RV Resort asks everyone to clear the water at the lagoon and the pool for 30 minutes, per lightning strike or clap of thunder. When we determine the weather has cleared and it is once again safe to enter the water, staff will reopen the lagoon and pool.
Only soft, Nerf-style balls are allowed in the spring. Hard leather-type footballs, soccer balls, and volleyballs are not allowed in the spring as this could cause injury to our other guests. However, you are more than welcome to use those items in the grass.