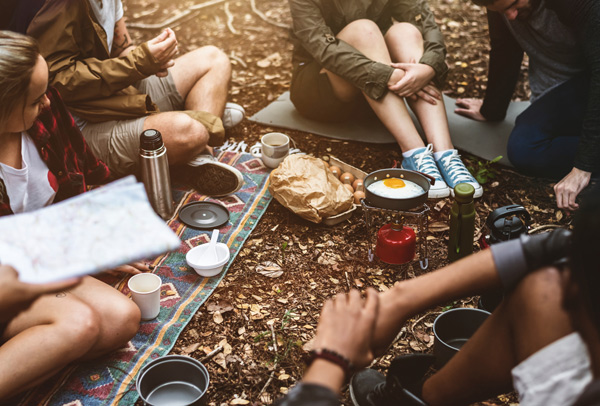 Camping with your family is a great way to get the kids outside and promote bonding with everyone. However, bringing everyone outdoors can be a bit of a struggle, especially if you have younger children. Keeping everything easy and organized from planning to packing to going on adventures can sometimes be a challenge. Don't let your family camping trip stress you out. Here are 8 ways to make family camping simple and fun.
1. Travel Local
Whether you're RV camping or tent camping, a trip like this does not require you to travel far. Get creative and do some research about the trips you can take locally. There might be some campgrounds or state parks near you that you did not know about before. A quick and fun getaway can still be a worthwhile and meaningful trip.
2. Stay in the Outskirts
There are families that carry bulky backpacks and hike for miles in the woods and mountains. This is ideal for more experienced campers, however, taking the family camping near a town can still be an enjoyable experience. It's also easier to plan out and pack for. You can still experience nature and pick up a few necessities at a nearby store.
3. Keep it Low on the Personal Care Items
Worrying about how you look does not matter when you're camping. Items like conditioner, lotion, razors, makeup, and hairspray are things you don't need to worry about. Each person is simply going to need a hairbrush, toothbrush and toothpaste, beach towel, deodorant, and soap. Don't forget sunscreen and bug spray, as these are the most important.
4. Pack Lighting
Light sources that don't need to be handheld can be super beneficial on your trip. Bring headlights, LED flashlights, and even glow in the dark bracelets and necklaces to keep an eye on the kids at night.
5. Bring Some Activities for the Kids
Your kids are probably going to be spending most of their time playing outdoors, but it doesn't hurt to bring along coloring pages, a book, and a board game or two. These come in handy when your children may want to be entertained in the evening, or when you have some downtime in the day.
6. Have a Large Tent
Make the bonds with your family even stronger by bringing a large tent. This creates more space for movement and sleeping bags and also enables you to keep an eye on the young ones.
7. Use Clear Containers
With clear, plastic tub containers, you can easily organize your items and see everything you brought without digging and unpacking to find something. They keep your items dry and also prevent outdoor critters from getting inside. Be sure to label the containers to make it easier.
8. Let the Kids Help
Allowing the kids to help pack and unpack is not only easier for you, but it also allows them to feel included and be independent. They can take out their camping chairs, hold items, and set up the tent with your supervision if they're old enough.
https://wekivafalls.com/wp-content/uploads/sites/9/2019/01/CampersLookingAtEgg.jpg
406
600
atiadmin
https://wekivafalls.com/wp-content/uploads/sites/9/2019/09/WekivaLogo2.png
atiadmin
2018-03-19 16:32:17
2019-08-09 17:11:21
8 Ways to Make Family Camping Simple and Fun