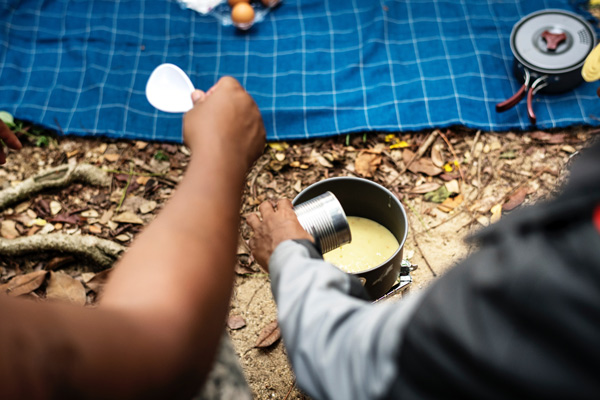 Although the idea of cooking a meal while camping can seem daunting if you are RV camping it makes it a lot easier. Here are a few tips to make cooking while camping a breeze.
Make a list
Cooking while camping, or anywhere away from your kitchen can be hard. Making a list helps relieve the stress of losing track of what you need. Go step-by-step through every meal you plan to cook and make sure you have everything you need from ingredients to appliances. Once you pack you can go back to your list and double check that you have everything you need.
Prep as much as you can
Working out of your kitchen is hard, try to do as much prep work as you can while you're still home. This will make it a little easier and will also give you one less thing to worry about when cooking at the campsite. Another benefit of prepping beforehand is that when you get hungry you can start cooking right away.
Pack smart
You will want to bring a cooler, or a few depending on how long you are planning on staying. Freeze anything you can, this will preserve the items and can be used as ice packs. Put the big pieces of ice on the bottom and layer cubes throughout. Make sure to layer your food by when you will be using them, putting the items you will need sooner on the top. Leave delicate items on top to make sure they remain safe.
Have a hearty breakfast
Breakfast is the time you can go big without a lot of works. Pancakes or eggs are easy to make and are always crowd favorites.
Create to-go lunches
Usually, during lunchtime, you will not be by your campground, so you need to make sure you pack lunches that can be taken on the go. Pack bags of nuts, cheese or fruit that can be easily eaten in any setting as well as sandwiches for moments you can take a break and sit down. Sandwiches are easily made and can be packed in your bag without taking up much room.
Make a customizable dinner
By the time dinner rolls around everyone will be hungry and tired and if you come with a big group that can mean cooking for a while. A great way to satisfy everyone is planning a dinner that can be customizable, even better one that can be made by everyone. Pizza cooked on a cast-iron skillet is a fun dinner where people can pick their toppings. Another option is a foil-packet dinner where everyone can put together a mix of vegetables and proteins to put in the fire to cook.
Don't forget about dessert
Dessert sitting by the fire is what everyone looks forward to when camping. S'mores are easy to make and always a favorite. You can make them your own by adding a twist with something as easy as using a different kind of chocolate or adding another ingredient.
Bring drinks
If you're going to be drinking water all day while hiking or doing other activities, you will want to bring other drinks you can have with your meals. Basics like coffee, juice or milk can make your breakfast a lot more enjoyable. Bring hot chocolate for the nights when it gets cold to sip on by the fireplace and for the adults some cocktails.
https://wekivafalls.com/wp-content/uploads/sites/9/2019/01/CampCooking.jpg
400
600
atiadmin
https://wekivafalls.com/wp-content/uploads/sites/9/2019/09/WekivaLogo2.png
atiadmin
2018-11-18 15:58:31
2019-08-09 17:09:42
Cooking while Camping